CONTACT PHIL
IN-HOME DOG TRAINING
Serving Central Connecticut

Dog training is most effective when it takes place in your home. This is where your dog lives and therefore where most of the behavior issues take place. When I come to your home I can train your dog in a place where he feels comfortable and is not distracted by other dogs. If your puppy or adult dog is having any kind of behavioral issue such as jumping, excessive barking, pulling on walks, eating off the counter, etc. please give me call. Most behavior issues can be addressed with the right correction at the right time. Depending on how much time and effort you put in to it, most dogs learn quickly.

I also teach basic and advanced obedience classes at the Cheshire Parks and Recreation Department, located at 559 South Main Street in Cheshire, CT. Please visit their website to

register online

!
ABOUT PHIL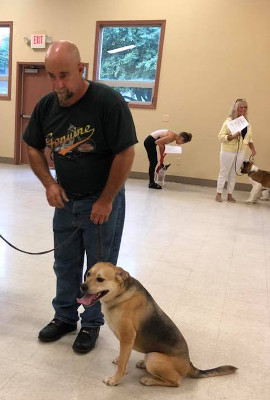 I was nine years old when I asked my parents for a dog. I wanted a German Shepard. On my tenth birthday they brought me to a pet store and told me to pick one out. My father had one rule. "You can't have a big dog unless it's trained." My brother is seven years older and was driving so he took the dog to lessons every week. Then he came home and showed me what he learned. I would have to practice every day for half an hour. My Dad asked me every day if I had practiced with the dog and I did. That is how I first became interested in dog training. My brother became friends with the trainer Bruce Giannett. He came to the house and helped me occasionally.

My dog Baron learned quickly and by the time he was a year and a half we were entering him in obedience shows. He placed and won often. He received cups and ribbons and made me very proud. Then when I was seventeen I got a call from Bruce. He asked me to bring my dog to his class to show people what their dogs could do if you keep up the training. I showed up with Baron on my left side off leash. I stood there until Bruce introduced me. I put Baron through a number of silent commands like stay, come, heel, down. He did it all perfectly. He made me very proud. Years later I called Bruce and told him I needed his help. I asked if he could show me how to set up a class for training. A veterinarian had hired me to run a class but I had never tried to show people how to train dogs. Bruce came and showed me what to do. I worked for the veterinarian for a few years and I had been going to Bruce's classes during that time. After the pet store closed I went to work with Bruce and have been working with him ever since.
SERVICES
I make housecalls! Dog training is provided in the comfort of your own home. From puppies to adult dogs, I can help with any and all aspects of basic obedience, behavior problems, and show training.
BASIC TRAINING

Basic Training is teaching your dog how to heel, sit, stay, come, down, leave it, off, and no. Every dog should know these basic commands. Depending on how much time and effort you put in to it, most dogs learn quickly.

ADVANCED TRAINING

Basic Training must be completed first. The dog should be able to do all of the basic commands with a verbal instruction. From there you can move on to silent commands and then to Agility Training, Competition Training, Search and Rescue, Tracking, Therapy Training, etc.

BEHAVIOR PROBLEMS

Behavior problems can be anything from jumping, barking, obsessive licking, mouthing, pulling on walks, anxiety - anything that becomes a problem. If a dog shows signs of aggression, contact a dog trainer that can help immediately. The sooner you start, the easier it is to fix.
TESTIMONIALS
Don't take my word for it. See what my clients have to say about me
Kaneisha A. Phil is THE BEST ! He made things relatable and it all made sense. We no longer are confused and we are now comfortable and confident in raising our puppy ! Definitely will continue learning from him !

Carla D. Phil is an experienced, knowledgeable dog trainer that has an instinctive way of working with dogs. His natural ability of communicating with dogs and their owners, and his philosophy in training and correcting behavioral issues work.

Gayle G. - Benji's Proud Mommy

"Phil has been Benji's trainer for about 4 weeks. He comes to our house where he can observe Benji (and mommy) in his home environment. I find that Benji acts differently in class and in public sometimes, whereas at home his true colors shine... I realized my (uh, I mean Benji's) problem by the end of the first lesson. He doesn't speak human and I don't speak dog. For now, Phil is my interpreter, sort of like a marriage counselor. The more I begin to understand what Benji wants and needs from me in terms of patience and consistency with my commands, the more favorable actions & reactions I get from him in return...

Phil demonstrates a tremendous breadth and depth of knowledge about our canine companions. His extensive experience is evident in his natural way with dogs. From the first moment he appeared at our door, Benji respected, obeyed, and wanted to please him... By the end of our second lesson, I knew that this was the best money I would ever invest in my dog, better than any toys, treats, fences, agility games...

I like Phil's teaching method where he tells you what he's going to teach you, he teaches it to you, you practice it with him, and then he reviews what he taught you. Phil expects to be successful with all of his clients and he is, because he works with them, and he invests his time and himself into their success. I couldn't be more pleased with the progress that Benji and I have made in such a short time and most of all, in seeing how much happier my little guy is when he is listening to me! I would highly recommend Phil to train your dog."

REVIEW ME

I am so excited that you have chosen Phil's Dog Training. How do you like my service so far? I would love to learn more about your opinion. Can you please write a review on the Google Maps page? Google reviews play an integral role in acquiring new clients.

For those with an Android Phone, it is simple; you already have a Gmail account and password. To do this, go here and click on write a review, log in with your Gmail address and password. Next, select the number of stars, share your experience, and press post.

For those who do not have a Gmail account, fill out this form to create one. Once your Gmail account is created, login here, and please leave us a Google review by following the instructions above.

Phil's Dog Training appreciates your business and is committed to continuing to provide added value. I strive for excellence! I do this for my clients by listening to my clients' comments and concerns.

Thank you so much for taking time out of your day, I appreciate you!
CONTACT PHIL
Phil Huntington
(860) 302-7077
From puppies to adult dogs, I can help with any and all aspects of basic obedience, problem solving, behavior problems, and show training.
Give me a call or send me an email by filling in the form below:
Phil Huntington
(860) 302-7077
From puppies to adult dogs, I can help with any and all aspects of basic obedience, problem solving, behavior problems, and show training.
Give me a call or send me an email by filling in the form below: